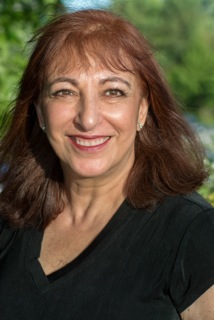 Photo by Sheila Perry
I am a Board Certified Massage Therapist who is licensed in both Massachusetts and New Hampshire.
Certified in Prenatal and Perinatal Massage - Pregnancy Massage.
Oncology Massage and Sports Massage trained. MY CLIENT RACHEL HYLAND PLACED FOURTH OVERALL WOMEN IN THE 2018 BOSTON MARATHON WHILE UNDER MY CARE.
Specializing in Therapeutic Hot Stone Massage, hot stones are incorporated into most massages (if you prefer, the stones will be omitted) - no additional charge.
- Imagine as the hot stones relax your muscles, your Deep Tissue Massage becomes deeper without the pain.
- If you are looking for a Swedish / Relaxation Massage, you will "melt" into the table.
- Pregnant? ...You do not want to wait any longer to call and set up an appointment for a massage! You will be treated as the Queen you are. Certified in Prenatal and Perinatal Massage / Royal Pregnancy Massage Miss lying on your stomach? - I have a very special massage table body cushion just for YOU!
- The Sports Massage will focus on the main muscles of your sport and keep you in the game.
As an approved NCBTMB Provider for Continuing Education, I currently teach at the North Eastern Institute of Massage in Manchester, NH - and formerly at the following closed schools: Cortiva Institute in Watertown (Boston), MA, Palmer Institute of Massage and Bodywork (Salem, MA) and Solidago School of Massage (Amesbury, MA).
Along with teaching, I enjoy a private practice. Call me at 617-823-2795 or email.
Experienced in Sports Massage - If you run the Boston Marathon or cycle the Pan-Mass Challenge (PMC), you will find me volunteering my massage therapy skills to the athletes of these events... for over 10 years!

Part of the Pan-Mass Challenge Volunteer Massage Team for 16 years - I am also part of the PMC Oncology Massage Team. Here I am after more than seven hours of 15-minute massages / four per hour! - Yes, I redesigned my PMC t-shirt: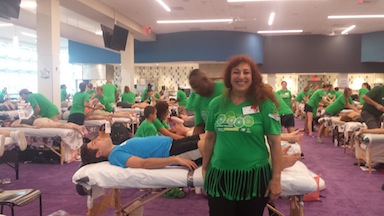 Being a member of the ERMI (Emergency Response Massage International) Team rounds out my background and nurtures my need to help others.
In addition, I am licensed in Massachusetts as an aesthetics instructor, aesthetician and manicurist. I have been involved in education since 1989 covering skin care and body treatments. Since 1993, I have traveled throughout the United States teaching classes and demonstrating facial and body treatments at massage/skin care conventions and spas/resorts for such companies as Divi International Company (a manufacturing company in Madrid, Spain with a US headquarters in Miami, FL) and the Dr. Jeff Skin Care Company (based in Ontario, CA).
To find out more about Gift Certificates, referral incentives, rates for groups (i.e. Bridal Parties, Sports Team, PTO, Friends, Family) or to find out how to schedule On-Site Chair Massage at your workplace or event, call 617-823-2795 or send an email.